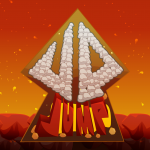 My first game made with Unity3D.
The idea was to create a tough game where the character automatically jumps whenever it hits a platform and then you have to navigate your character to either left or right by tilting your phone to hit the next platform, if you don't hit the next platform you will fall to your death 🙂 "evil laughter"
There is no end, other than it will get harder the further you get, the game generates new platforms all the time by calculating the beforehand platform including the height and jump height of the character, then I can adjust a variable to define how easy or hard the next platform(s) will be.
I have also implemented a scoreboard by using Google Play Games Services.
Here is a video where I and my friend Martin talks and play and fails at it 😀